ENABLING WORKFORCE EFFICIENCY DURING COVID19 TIMES
The Client
With over a decade of deep domain expertise and competence in consulting, technology, and analytics across disciplines, the organization has mastered the art of binding the distinct technologies creating epic results for their clients around the globe.
The organisation designs, builds, and implements top notch solutions with agile advisory services, advanced analytics, and robust technology platforms to achieve better outcomes and finally delivers the best-in-class experience for its' clients through the stakeholders in the value chain.
The problem faced
During the COVID-19 outbreak, the government implemented a general lockdown restricting all non-essential activities and offices were closed. Based on the business requirements, the client asked all employees to work from their homes. All employees accessed their physical systems installed at their office from their home, using their corporate VPN. Generalised slow performance was experienced by users, owing to the spike in the corporate internet usage, the internet bandwidth was not enough to cater to the increase & spikes in usage. It was also not possible to provide support for issues that required onsite presence at office. This severely impacted the productivity of their employees.
To overcome the above challenges, the Client reached out to Precision to implement a a Cloud based VDI solution.
The Solution that was architected
Precision suggested Amazon Workspaces as the VDI solution and implemented the same, aligning to the Client's business needs.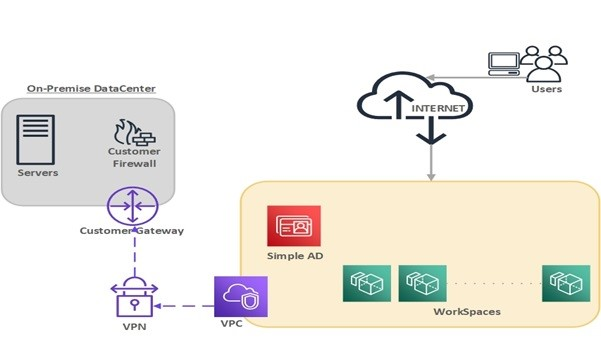 Precision's solution was to setup VDI environment on AWS and restrict to internet access through on-premise firewall.
AWS services used in the solution
Amazon Virtual Private Cloud (VPC)
Simple Active Directory
Amazon WorkSpaces
Solution Summary
Created VPCs with two different subnets in the same Availability Zone.
Created a Simple AD domain controller
Launched WorkSpaces
Established Site to Site VPN
Routed all traffic from WorkSpaces through On-premise firewall
Created and configured rules in on-premise firewall to restrict internet access
Security
WorkSpaces volumes are encrypted with Customer managed key
VPN established with On-premise firewall to access the on-premise servers as well as controlled internet access to WorkSpaces users
The Outcomes
Users were able to access their workspaces from Web browser, Windows clients, and Chromebooks without any challenges and their business continued as expected with additional security and better performance.